Water Nudes by Eric Boutillier Brown


Gold River, Nova Scotia - 1999
This photo used a four second exposure to blur the water. The wonderful gloss
on the black rocks is a perfect contrast to the soft flow of the water over Victoria's torso.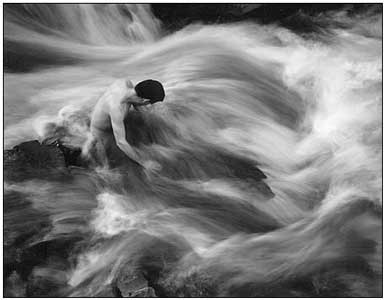 Gold River, Nova Scotia - 1999
The incredible power of a river in full flow is just hinted at
with this image. Miles had clambered out into the river's flow,
and set his back against the current, only to find it stronger that he'd anticipated.
I had set up the camera as he'd moved out, and made the image as soon as he
was in place. The the interesting part, getting Miles back safely began.
Needless to say, he survived, but in hindsight, we all agreed that
it might not be a good image to have to reshoot.


Gold River, Nova Scotia - 1999
This is one of my favorite water nudes, combining the hard, solid tones of the dark rock,
and the fluid, ethereal look of blurred water. Intermixed with this is Victoria's figure,
flowing out into the moving stream. It is everything I look for in a successful photograph.

Copyright © Eric Boutilier-Brown 1999. All images are protected by international copyright laws.