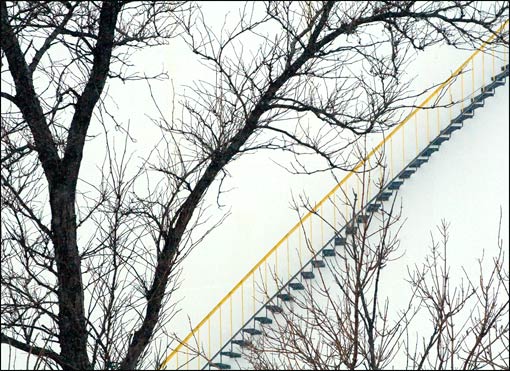 What is going on here?'
Where does the lad­der go?
Are there treats at the end of the ladder?
This pho­to­graph is an excel­lent exam­ple of lens com­pres­sion. For those that may not know, longer lenses tend to com­press the fore­ground and back­ground while wide angle lenses tend to do the reverse. I shot this scene on 1 frame from about 50 feet away. The white in the back­ground is actu­ally a mas­sive con­tainer filled with oil and the lad­der is part of that con­tainer. The tree is actu­ally about 20 feet in front of the container.
I shot this scene from my car while snow was lightly falling. Exif data — Shot at ISO (The light was quickly fading)'1000 F-16 at 1/400 at the long end of my 70–200 zoom lens. You can click the image to make it tastier on the eyes.